Excitement surrounding the first Carnaval International de Victoria is reaching fever pitch in Seychelles, and souvenir items are now going on sale to promote this major event which is set to dazzle the capital from March 4-6.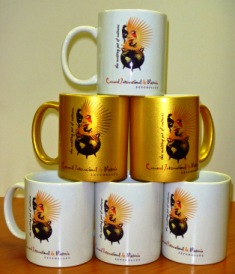 The carnival items include cups, T-shirts and caps embellished with the beautiful carnival logo.
The cups have been on sale at the Seychelles Tourism Board's information office at Independence House since the beginning of this week.
But as of yesterday, members of the public have also been able to buy their souvenir cups, along with the carnival CD and lottery tickets, at two new sales points in Victoria – the post office and Independence House ground floor.
The carnival cups come in two colours, white and gold, and cost R125 each. As of Monday, the T-shirts and caps will also be on sale.
The public are urged to buy their souvenirs early so as to avoid disappointment.
Source Seychelles Nation
Note: We have very important means to promote and market the first Carnaval International de Victoria at our Community portal, the approach of the promoters. There is ample space however to write, debate and contribute. Please note the first thread here is about the merchandising products.
Last edited by Sirop14 on Sat Feb 19, 2011 11:20 pm; edited 2 times in total
As the Seychelles Tourism Board this week studies the final list of those taking part in the Carnaval International de Victoria, its chief executive Alain St Ange said visitors and the Seychellois public alike are in for one of the biggest and best shows ever to take place here.
A total of 20 international floats and 46 local firms are now preparing to light up the streets of Victoria on Saturday March 5 in a parade that will be vibrant and full of surprises.
Mr St Ange called on the public to come down in large numbers to enjoy themselves and support the carnival teams.
The international floats will each have their own theme, which will heighten the ambiance and add a multitude of colours to the carnival.
Article
Key figures organising next month's big Seychelles carnival met earlier this week to discuss their strategy to ensure it runs smoothly.
They included the coordinator of the Carnaval International de Victoria, representatives of the police force and the Seychelles Tourism Board (STB).
Article
eturbonews.com

---
Permissions in this forum:
You
cannot
reply to topics in this forum